The Last Days of Summer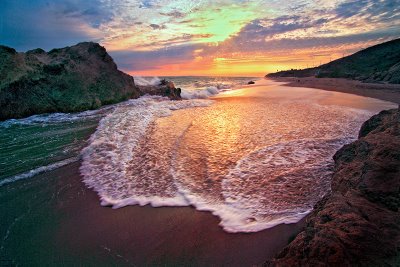 A summer storm swept over So Cal in these last days of summer. It was a hold over from Hurricane Dean. Not much in the way of rain, but lots of clouds and humidity that only a summer storm can bring. I thought the clouds were thin enough for the sun to poke through so I headed to Malibu. I went to Leo Carrillo State Beach knowing that I would be able to see the setting sun there this time of year. El Matador Beach has cliffs that might block my view. In the winter the sun sets farther south and you can pretty much go to anyone of these coves, but in the summer you have to pick your spots.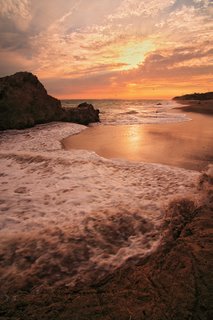 A warm wind was blowing and the beach wasn't the way I remembered it. All the rocks that were prominent in my earlier photographs were covered with sand. I talked to surfer Kevin Ryan and he said that this is a typical pattern for this beach. The smaller summer waves push the sand up onto the beach and the bigger winter waves crash in to the rocks and pull the sand in back into the ocean. Looking for some foreground I was forced to perch myself on a small ledge on the side of a cliff.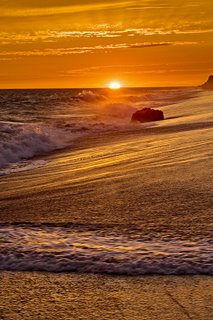 One of the tricks to getting a good seascape is to catch the glint on the water. When the water moves out it leaves a thin layer of water on the sand and a beautiful reflection results. I like to frame up the picture and use a cable release. Then I don't have to look through the viewfinder anymore. I just look out at the ocean and when I see a good reflection I fire away. Often I use f/22 in order to get a longer exposure and gives a blur the water. When the suns in the frame I may chose f/8. At f/8 the sun is more of a soft edged glow and at f/22 it becomes a sharp edged circle.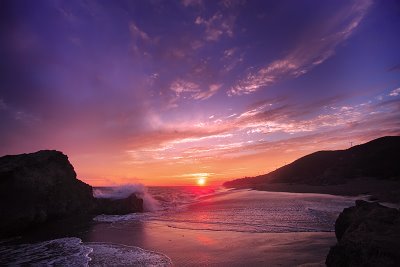 I'm not sure how good the pictures are but the experience was unbeatable. The waves should come in from the west, but once in while they would get enough power to go up the hill and come straight back at me filling the small cove (North to South). The waves would even climb the ledge I was standing on and trickle down. After the sun went down I walked along the beach. I turned back and took a shot of the moonrise. I used a 30 second exposure in order to get that cotton candy look on top of the waves. With the warm wind, beautiful light and majestic ocean, I truly enjoyed the last days of summer. The photos are just a bonus.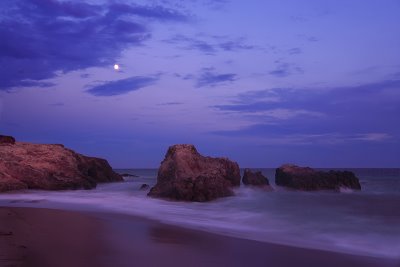 For more on Malibu see
Photographing Malibu
Some of the tips I got are from Tony Sweet's books
You can visit his
site
or buy his books on
Amazon
For Photo Workshops see
Don Gale's site
Labels: California, Malibu